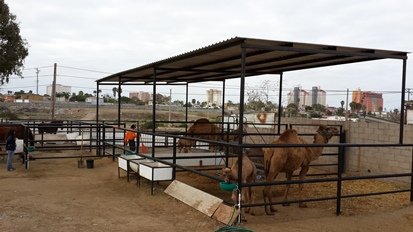 First of we have someone with the camels 24 hours every day.
We feed them each morning around 8:30 A.M and again at 3:00 P. M.
We feed them Alfalfa and Avena in pellet form for more protein and vitamins in clean containers. They have clean fresh water, 100% of the time with their automatic water devices. We have salt blocks with them at all times for their salt requirements.
We give them treats everyday , carrots and peanuts in the shell. These treats are their rewards during training and also just to show our love for them. They are very much like any pet that you have. They love attention and touch.
We give them exercise each day to keep them fit and healthy.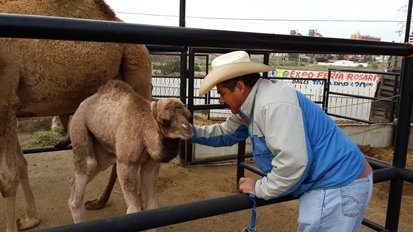 Doctor Alejandro Campos of Tijuana is our animal doctor registered in México with the Federal Government. Doctor Rojas of Rosarito is our doctor here in Rosarito who follows the instructions of Dr. Campos.
They are always ready to assist us with any concerns or questions that we have.
They are very professional and caring of our camels.
Our camels have no fear of humans because they have never been abused or threatened by people. We understand the need for patience and affection in order to train an animal. Personally I have trained Raccoons, Grey squirrels, Flying squirrels, Dogs, Racing Homer Pigeons, and now Camels.
I trained these camels personally because I understand the importance of knowing the personally of each camel. In this way I know when each one is ready to be presented to the public.
We believe that Rosarito Ocean Sports is very much in harmony with the Mexican Government and the public to be able to educate many people of these magnificent animals especially the children. We want the children to understand that these great animals have a history that goes back over 4000 years.
We now have two baby camels and any day now, maybe today, our third baby camel will arrive. We are ready to assist "Mesac" in whatever way we can, to help her as we did with the first two babies and mothers. We have her bed ready so she and her baby will be as comfortable as possible.
With our new Rosarito Camel Ranch located in the Canyon Rosarito we will be working to rescue these magnificent animals from the travelling Circos when they need a place to retire their camels due to age or health.
Our Corrals or Camel Ranch will always be open for visits by the public to experience the love that we have for these animals. Any questions that you might have, please e-mail me at joeerobertson@hotmail.com or FB RosaritoOceanSports.
See you soon,
Joe Ervin Robertson Jones