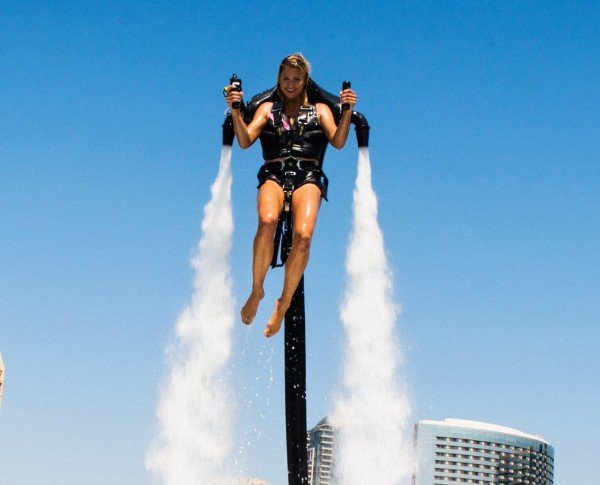 EXPERIENCE THE FUN OF THE WATER JETPACK FLIGHT WITH ENSENADA OCEAN SPORTS
Have you ever dreamed of a Water Jetpack flight? Flying through the air, hovering high above the world below, even diving underwater like a dolphin? Thanks to Ensenada Ocean Sports, the dream has come true!!!
So what can you expect from your Water Jetpack adventure? The experience of a lifetime! Our flight center in Estero Beach Ensenada, Baja California, Mexico, is the perfect setting for this adrenaline pumping experience, so be sure to book your Water Jetpack rental today.
TRAINING – Our Certified Flight Instructors will coach you through your flight from start to finish. On your flight experience day you will receive classroom instruction in our Water Jetpack school. This includes a safety video to introduce you to the Water Jetpack technology and to give you the run down on how the training will go on the water.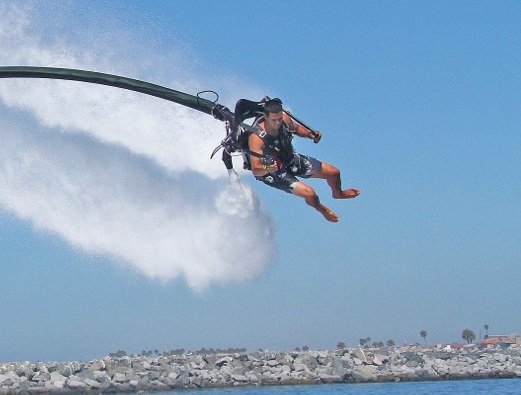 FLIGHT TIME – Each Water Jetpack experience includes 30 minutes of flight time depending on your purchased flight package. Your instructor will control your throttle via the jetski below.
THE EXTRAS – Of course, what would an adrenaline rush be without a few ways to share it with your friends and family? Every pilot gets a Pilot Certificate to prove their Water Jetpack flight skills.
Jetpack Flight Experience
Our recommended package for first-time pilots is one hour from start to finish, with a full 30 minutes of flight time to hone your skills. You'll learn the basics of Water Jetpack flight with your Certified Flight Instructor on the throttle, so you can be on your way to becoming a proficient Jetpack pilot. Skills taught are steering, stability and elevation control, as well as the more advanced maneuvers such as walking on water, no-handed flying and underwater submarines. With most first-time pilots taking 5-10 minutes to learn the fundamentals, this package allows for more advanced flying and a max height of 15 feet.